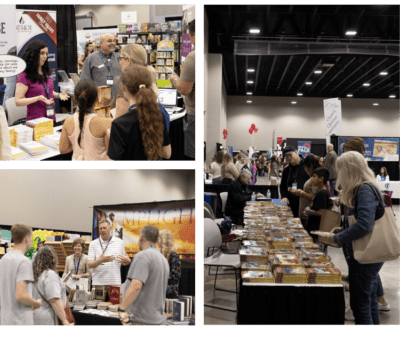 Our 2023 Exhibit Hall is packed with resources for your entire family! Whether you are new to homeschool or you are a seasoned pro, our Exhibit Hall has something for you. Our goal for the Texas HomeSchool Convention Exhibit Hall is to provide resources for ordinary parents to help raise Extraordinary kids!
Are you an exhibitor? Click here for information, registration, and resources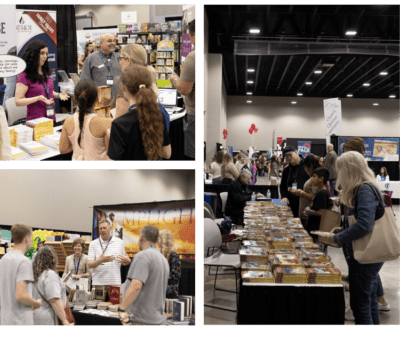 Our 2023 Exhibit Hall is packed with resources for your entire family! Whether you are new to homeschool or you are a seasoned pro, our Exhibit Hall has something for you. Our goal for the Texas HomeSchool Convention Exhibit Hall is to provide resources for ordinary parents to help raise Extraordinary kids!
Are you an exhibitor? Click here for information, registration, and resources
Exhibitor
Description
1000 Hours Outside - Ginny Yurich
1000 Hours Outside is a global movement designed for any age child (or adult) and any environment. Join the journey and watch your life transform before your eyes. Nature holds tremendous power for each and every one of us at any age or stage.
3DCAD Masters LLC
We teach middle school students how to use advanced 3D CAD software and master their spatial skills.
A.C.E. School of Tomorrow
A.C.E. School of Tomorrow has been publishing Christian School and Homeschool curriculum for school age children since 1970. Our purpose is to equip parents in the training of their children with a Godly, character-building academic curriculum in a Bible-based, individualized system of learning.
Abeka
Since 1972, Abeka has been offering excellent education from a Christian perspective. Come visit our display to learn more about our curriculum offerings and special convention discounts.
Abiding Truth Ministry, Inc.
Our mission is to teach, train, and mentor the younger generations in biblical living. Our resources include books and online teaching of Practical Proverbs series with a high school credit for Life Management - elective). Other books include history based devotions and Christian biographies, Christian identity, finances, and chronic pain.
Abolish Abortion Texas
Our mission is to abolish abortion in Texas by mobilizing Christians to influence civil government in obedience to the Great Commission.
Airing the Addisons
Airing the Addisons ATA is a daily radio/podcast program focused on Marriage, Family and the Church. Co-hosted by married couple, Wil and Meeke Addison, the program observes cultural trends and explores their effect on the foundations of Biblical morality. Wil and Meeke offer insight on culture, popular trends, and current events which threaten the integrity of the Christian Faith and the proliferation of the Gospel. The Addisons unapologetically filter their commentary through a Biblical lens.
Alpha Omega Publications
AOP creates and provides quality Christian educational materials to thousands of students through curriculum, educational books and games, support services, and an accredited online academy.
American Heritage Girls
American Heritage Girls (AHG) is a Christ-centered character and leadership development program for girls ages 5 to 18 years old. AHG is dedicated to the mission of building women of integrity and does so by offering girls exciting opportunities to participate in badge programs, service projects, leadership opportunities, and outdoor experiences, all with an emphasis on Christian values and family involvement.
American School
American School offers accredited courses in grades 6-12 in print and online formats at an affordable cost.
Angel Studios
Angel Studios is a streaming media service that offers family-friendly entertainment that amplifies light, with titles including The Chosen, Dry Bar Comedy, His Only Son, Wingfeather Saga, and Tuttle Twins. We focus on content supported by equity crowdfunding, where individual investors have the opportunity to share ownership in the titles.
Apologia
Developed by leading scholars, Apologia provides creation-based, K-12 homeschool curriculum that equips and empowers you to help your students reach their academic goals and nurture their love of God. Apologia's award-winning curriculum encourages independence and cultivates a lifelong love of learning with a conversational tone written directly to the student and includes hands-on activities and experiments.
Arizona Christian University
Our Mission
Arizona Christian University provides a biblically-integrated, liberal arts education equipping graduates to serve the Lord Jesus Christ in all aspects of life, as leaders of influence and excellence.

Our Vision
Arizona Christian University exists to educate and equip followers of Christ to transform culture with the truth.
Beakers & Bricks, LLC
Beakers & Bricks, LLC publishes the Edible Knowledge series of experiment-based food science and physics (using LEGO bricks) print and self-paced online courses for ages 6 through high school.  Additionally, great deals will be available on all online based courses including: a new junior high/high school 3 semester self-paced online food science deep dive that includes occasional live virtual discussions with food scientists; The Hungry Students subscription; the popular full family educational entertainment series Edible Knowledge for the Curious Cook.  It's Everyday Useful Knowledge…Knowledge You Can Eat!  Come check us out!
Beakerz Science
Beakerz Science is an experiment-based science education company, bringing hands-on and fun-filled lessons to your students. Prepare your students for the ever-growing STEM world with our Beakerz Science boxes, which include 4 hands-on activities and experiments, access to fun and engaging teaching videos, quizzes, and a badge reward system.
BESTWA
Come play with us and learn how you can transform the life of a child in Africa. BESTWA provides food, medical care, education, and the love of Jesus to 1,256 children at risk in Liberia West Africa each day!
Beyond Personal Finance
Our passion is teaching teens that their choices matter. We are firm believers that in order to prepare teens for the road ahead they must be given the opportunity to practice making good (and not so good) choices using real dollars before they get out into the world and have real regrets.
BiblioPlan
BiblioPlan is a Classical Christian History and Literature Curriculum with a Charlotte Mason Flair
BJU Press Homeschool/HomeWorks by Precept
BJU Press Homeschool provides a complete curriculum for preschool through 12th grade woven with a biblical worldview, critical thinking skills, and hands-on learning with instruction options using traditional parent-led textbooks and professionally-taught video courses.
Bob Jones University
Bob Jones University is an accredited Christian liberal arts university located in Greenville, South Carolina. BJU is regionally accredited by SACSCOC and nationally accredited by TRACS and offers a wide variety of undergraduate and graduate programs in five schools, a college, and a seminary. BJU provides both intercollegiate and intramural sports with 19 NCCAA national titles and is a NCCAA Division III member. One-third of the student body are homeschool graduates.
BookShark
BookShark is a complete, literature-based, homeschool curriculum. Our curriculum uses a variety of educational resources including literary fiction and nonfiction, biographies, illustrations and hands-on experiments to deliver an engaging and complete education that extends beyond textbook memorization.
Brain Balance of Allen
Brain Balance for children is a holistic brain and body wellness program. The program is designed to help your child strengthen and improve his/her brain's functioning -- positively impacting many areas of their life.
Brain Sprints
We help families find solutions to learning struggles. Whether it is training parents to address the root causes at home or at our Brain Sprints Center, lives are changed by this dynamic NeuroDevelopmental Approach to learning challenges. We would love to help you on your NeuroDevelopmental (ND) journey to releasing the God-given potential within.
Brave Books
BRAVE Books created the Freedom Island Series an alternative to the current progressive agenda dominating children's literature. Each book teaches a new traditional value that makes America so special. With the universe and cast of characters we have created as well as the BRAVE Challenges, we are creating a one-of-a-kind learning experience woven into an epic adventure that will live forever in your children's hearts and minds.
Bridge to the Badge
Janelle Newton, and her husband Paul, are the founders of Bridge to the Badge, a non-profit supporting the families of First Responders.

Janelle is also a homeschooling mom, speaker, and the author of the book Bulletproof Home, which is a valuable resource for any family desiring to build a home on a firm foundation.
Bridgeway Academy
Accredited, truly customized homeschool programs for Pre-K - 12th grade. Create a best-fit homeschool curriculum that inspires your student with complete flexibility. From self-paced textbooks to live online learning that includes 1:1 support from your academic advisor and the opportunity to build relationships within our homeschool community. A better way to learn starts here.
BrightThinker
We offer Customizable K-12 online curriculum to homeschooling families across the country. We serve these families with a range of solutions which include remote learning, blended learning, credit recovery, CTE, Special Education and intervention. We do this with an individualized, self-paced and tightly aligned curriculum.
Brinkman Adventures
What happens when you take the wacky adventures of a fictional American family and mix them with exciting true stories of heroes from around the globe? You get a captivating audio drama series called Brinkman Adventures! Powerful stories from the lives of real people come to life through the humorous escapades of the Brinkman family. These adventures will strengthen your faith and family and entertain listeners of all ages. Brinkman Adventures is a treat for the ears, mind, and heart. So sit back, turn up the volume, and get ready…
Camp Eagle Adventure Camps
Overnight summer camps and retreats that inspire Christ-like change through outdoor adventure, authentic relationships, and biblical truth.
Capernaum Studios
Capernaum Studios is a premiere location for period films, complete with a first-century village made popular by numerous films and shows like "The Chosen" series. In addition to the village, the studio has a modern town, a large backlot, an 8,000 sq. ft. sound stage, a second soundstage complete with a greenscreen wall, production booth and an LED wall.

Tammy Lane is the founder and CEO of Capernaum Studios, located on 40-acres, west of Ft. Worth, Texas. She produced and directed the studio's epic historical film, "Washington's Armor". Capernaum is also known for public events, ministry productions and live experiences that interact with the community. In addition to tours and various workshop events, a Chosen tour has been added featuring village settings seen in the popular series.
CCC Toolbox
Through seminars and one-on-one assistance, Shari Nelson, with CCC Toolbox, advises families on creating an academic high school and graduation plan, providing resources to help students succeed no matter the learning challenge, walking them through college, career, and calling exploration, and preparing students for their post-secondary plans.
CCU Academy
Through CCU Academy, Colorado Christian University provides opportunities for high school and homeschool students to earn transferable college credit and even an associate degree prior to their high school graduation. Dual credit and online dual enrollment courses provide affordable general education courses for high school students in order to help reduce college costs and prepare for the rigor of college coursework. CCU Academy courses are taught with a Christian worldview — in keeping with CCU's mission to provide Christ-centered higher education transforming students to impact the world with grace and truth.
Center for Essential Education
Providing materials and curriculum that touch on the entirety of life for children and families.
CenterForLit, Inc.
CenterForLit, home of Teaching the Classics, offers parents and teachers a simple and powerful method for Socratic discussion of the Great Books.
Chicken Scratch Books and Courses
Chicken Scratch Books and Courses is a new publisher of new traditional middle grade novels parents can trust to be clean and free from social agendas. For each book we publish, we also create two online novel study courses so kids can dive deeper into the strong literature they are reading.
Christ for the Nations
Christ For The Nations Institute is a 3-year bible school located in Dallas, TX whose heart is to train & equip world changers for the cause of Jesus in their lives.
Christian Halls International
Target High school students and recent graduates
Christian Light Education
Curriculum for Grades K-12. Also Vocational Electives for High School .
Christian Warrior Books
I am the Author of a series of Christian Fantasy Books. I also provide workbooks to go along with the literature, Additionally I provide wooden swords patterned after historical examples.
Christian Youth Theater Houston
Christian Youth Theater (CYT) is an after-school theater arts training program for students ages 5-18. Since its founding in 1980, CYT has grown to be the largest youth theater program in the nation, with Branches across the country training thousands of students a year.

Each Branch's yearly calendar is made up of three ten-week sessions: Fall, Winter,and Spring. These sessions involve after-school classes in theater arts and the opportunity to audition and perform in a Broadway-style musical or work behind-the-scenes. Additionally, CYT offers a Summer session consisting of camps, workshops, and performance opportunities.
Christians Engaged
We encourage people to Pray, Vote & Engage in some form of civic involvement. We are a nonprofit discipleship ministry helping Christians to build habits of prayer for our nation and elected officials, voting in every election and civic engagement for the betterment of society and the furtherance of the gospel. We use our Pledge to Pray, Vote & Engage and our one of a kind video curricula to educate believers on how to do this from a Biblical Worldview and while maintaining their walk with Jesus.
Classical Conversations
Classical Conversations empowers you to guide your child's educational development at every age (and teaches you, too!). Our Christ-centered homeschool curriculum is rooted in the classical model and is in tune with the way children naturally learn.
College of Biblical Studies
College of Biblical Studies is a regional and nationally accredited college, we offer all our programs online and dual credit for high schoolers.
Colorado Christian University
Through CCU Academy, Colorado Christian University provides opportunities for students to earn transferable college credit and even an associate degree prior to their high school graduation. Dual credit and dual enrollment courses provide affordable general education courses for high school students in order to help reduce college costs and prepare for the rigor of college coursework.

CCU Academy courses are taught with a Christian worldview — in keeping with CCU's mission to provide Christ-centered higher education transforming students to impact the world with grace and truth.
Concordia University
Cornerstone Curriculum
Cornerstone Curriculum - teaching your children to think Christianly for a lifetime. K-12 curriculum for building a Biblical Worldview!
Cornerstone Curriculum
Cornerstone Curriculum - teaching your children to think Christianly for a lifetime. K-12 curriculum for building a Biblical Worldview!
Creating A Masterpiece LLC
Award-Winning Online Art Lessons for Aspiring Artists of All Ages.
Criswell College
Criswell College shapes students by scripture, and sends them to serve as Ambassadors, Cultivators, Peacemakers, Problem Solvers, and Professionals.
Cultivated Learning
Help for homeschooling ACTIVE children in a holistic way that is movement-rich, literature-heavy, relationship-building. We have exciting age-integrated unit study curriculum, resources to help kids focus, and Knights in Training - a book to help parents raising this next generation of boys!
Dallas Baptist University
We are an intentionally Christ-centered university whose focus is to please God above all else and to develop Christian servant leaders through a transformative educational experience.
Dallas International University
DIU is a private non-profit institution offering Dual Enrollment, Undergraduate and Graduate degrees and certificates in a variety of international service fields. Our alumni serve in over 75 different countries around the world!
Defend Young Minds
Defend Young Minds educates, encourages and equips parents, professionals and community leaders to defend young minds from the harms of pornography and sexual exploitation. We are devoted to developing excellent tools, including books, curriculum, articles, guides, courses and communities, to help raise empowered, resilient, screen-smart kids.
Demme Learning
Demme Learning is an independent family-owned and operated publishing company. Based in Lancaster, Pennsylvania, Demme Learning has been providing innovative learning solutions for homeschoolers, parents, and small group learning environments since 1990.
Design Discovery and Development Foundation
Design, Discover and Development Foundation exist to help people discover their God given design and develop it so that they may live in their purpose while on this earth. We offer assessments, resources and over 24+ years of homeschool experience to parents seeking to aim their children in the way that God has designed them to be and go.
Discover Texas History
Learning should be an adventure!
We've curated the best Texas History resources to help you create a family-integrated learning experience. Our engaging narrative tells the Story of Texas. Choose from a variety of coordinating wegblinks and videos, projects, library books, critical thinking questions, and field trips to design a courase that will bring history to life.
We invite you to Discover Texas History one adventure after another...because experiencing history is more meaningful than just reading about it!
Discover! Curriculum
Step inside a new world of learning with Discover!, the only elementary curriculum that leverages the best of online, interactive, and student-driven learning. Beautiful textbooks and fully-developed instructor guides have been designed to deliver 1-to-1 hands-on learning experiences.
Discovery Toys
Discovery Toys - Award Winning, Educational Toys, Books and Games! Curriculum support materials for those you are homeschooling and things to keep the younger ones happily occupied.
dōTERRA
We empower families with proactive natural health care and tools to help with emotions, focus, immune support, sleep, and many forms of relief.
Dual Credit At Home
Dual Credit at Home gives high schoolers the opportunity to earn both high school and college credits at the same time! Our daily Study Plans guide students in taking accredited exams for college credit.
Educate for Life
Grow confident in your faith and discover historical and scientific evidence for the Bible! Educate For Life is a professionally produced, easy to use, online Bible apologetics curriculum that teaches students how to respond to questions about creation, evolution, world religions, relativism, human sexuality, and the credibility of the Bible.
Emmaus Bible College
Emmaus Bible College is a four-year accredited Bible college that offers Christ-Centered Education, Uncompromised Biblical Teaching, and Valuable Professional Degrees.
Emmaus Worldwide
Emmaus Worldwide is a publisher of courses intended for school-aged children to grow in their ability to study the Bible independently. These are Christ-centered courses with a flexible format, encompassing a wide range of Biblical topics, and able to be adapted into any homeschool curriculum.
Evangel University
Evangel is an accredited, liberal arts university with more than 70 academic programs on the cutting edge of today's professional fields. Our commitment to the integration of faith, learning, and life attracts students from a wide variety of Christian denominational backgrounds who have a strong commitment to academics with a desire to combine their Christian faith with every aspect of their lives.
Excaliber Publishing/ Cajun Kid Adventures
We are a publishing company that is representing Cajun Kids Adventures series and their merchandise.
Extraordinary Education
EE offers a variety of Christ honoring classes and teams for families with students ages K-12 in the north Houston area. Our 5 acre campus in the Woodlands area is solely dedicated to our all ages college preparatory program.
Fair & Square Kids
At Fair & Square Kids we offer kids a complete discovery based lesson in a box! We know how important it is for you, as parents, to find activities that you can feel good about giving your kids because we are parents too! We have designed our Big Thinker Boxes with carefully selected and created quality hands-on activities that are both educational and fun. Our boxes are a perfect compliment to any homeschool curriculum!
Family Man Ministries - Todd Wilson
First Frets Guitar & Ukulele Lessons
First Frets offers online guitar and ukulele lessons for homeschoolers and private schools. Our bite-sized, step-by-step lessons accommodate any schedule. Individual and Family plans available.
Flip Flop Spanish & Spanish Geniuses
Spanish Learning together as a family for all learning styles and ages 3 up to 93. Short, hands-on lessons created for homeschoolers by homeschoolers. Self paced Spanish Video Courses for junior high through high school students, with LIVE access to Señora Gose herself, every week.
Friends Make Music
We are educators, parents and music lovers who believe music educations shall be accessible to all, for building up confidence, improving social and emotional skills.

"Musician By Day" is designed to help K-12 homeschool students learn musical performance through private and group lessons.

Each school year from September through May, the program follows a comprehensive curriculum that includes study in various music genres, theories, instrument practice skills, band and orchestra rehearsals.

We provide a safe place for homeschool students who share the love of music to work together and build camaraderie.
GFA World
Since 1979, we have been committed to serving the "least of these" in Asia and Africa, often in places where no one else is serving, so they can experience the love of God for the first time. GFA supports national workers serving as the hands and feet of Christ in four main ways. Sponsoring national missionaries to minister to people's needs, sponsoring children, investing in community development, and helping families in need of care or during disasters.
Generous Family
Generous Family™ is part of the organization I Like Giving, an organization that has spent more than a decade to start a worldwide generosity movement. The team is made of parents, educators, and business professionals with a shared mission to bring the Biblical message of generosity to the world. Through our seven-way framework and family-centered, faith-based content that is practical and easy to implement into already busy routines, we are committed to inspiring families to bring the conversation and practice of generous living into their homes. We believe giving can bring generations together.
Get Ahead of the Class, LLC
Get Ahead of the Class serves U.S. parents in all areas of student success, from high school through professional school, with the ultimate goal of attaining a debt-free higher education, because "College doesn't have to be a debt sentence."TM~Denise Thomas.
Gillian Bronte Adams - YA Fantasy Author
Epic fantasy adventure novels for pre-teen and teen readers, written to the echoes of eternity.
Ginger Hubbard
Ginger Hubbard, bestselling author of Don't Make Me Count to Three, Wise Words for Moms, and I Can't Believe You Just Said That, speaks at women's events, parenting conferences, and homeschool conventions across the country. She also co-hosts the Parenting with Ginger Hubbard Podcast. For more information visit GingerHubbard.com.
Glorieta Adventure Camps
Nestled in the Southern Rockies, Glorieta is a mountain escape that has adventure for everyone from casual camper to outdoor adventurer and extreme sports enthusiast. While the mild climate and outdoor activities draw our campers here, the transformations they experience have the greatest impact on their lives.
Grand Canyon University
Grand Canyon University is Arizona's premier, private Christian university. We help students find their purpose by offering next-generation education with 299 academic programs, including more than 250 online programs, across nine distinct colleges.
Greater Than I Ministries
Greater Than I Ministries (GTI Ministries) is a non-profit ministry providing products and materials such as Christian educational videos and Textbooks for the Christian church community at large for the purpose of "equipping the saints for the work of the ministry" (Eph. 4:11-12).
Gus Plus Us
Gus Plus Us is a new live-action wholesome Kid show for the whole family, made by a homeschool mom! In a world hand-crafted by creativity and imagination, an endearing creature named Gus invites you to embark on melodious adventures fueled by curiosity and discovery along with his faithful zany sidekick, Karrot, and whimsical mentor, Lucy.
Hank the Cowdog
John R. Erickson has written and published 75 books and more than 600 articles and is best known as the author of the Hank the Cowdog series of books, audio books, and stage plays.
Harding University/Making the Grade
Christian university
College prep study skills
HEART of Texas
HEART of Texas is a volunteer-run non-profit, 501c(3) education organization serving North Texas home school families and support group leaders. Our mission is to educate, train, and inform families on various homeschool-related topics and issues, and connect families and leaders with resources to be successful. HEART of Texas is the North Texas regional affiliate organization for Texas Home School Coaliton.
Herzog Foundation
The Stanley M. Herzog Charitable Foundation is dedicated to catalyzing and accelerating the development of quality Christ-centered K-12 education so that families and culture flourish.
Historical Conquest LLC
Historical Conquest is a history-based card game that has been proven to increase student retention in history and make it fun to learn. This game is great for 2-10 players, even the entire family. Think of a game that looks like the card game Pokémon, plays like the boardgame Risk, but all the cards are based on historical topics.

This year we will be introducing two new products: our first ever Math game, called Totally Medieval. This game will help with strengthening your student's Math skills without having to use worksheets that students don't enjoy. Practicing math facts from adding and subtracting to Algebra I and each player can play at their own level. Get ready for a fun time crunching numbers and defeating your opponents. Note: The concept of this game is similar to Chess.

And, there is much more.
Home School Athletic Association
HSAA is designed to give home schooled students the opportunity to compete in 11 different sports in a Christian environment. We offer middle school and high school sports.
Homeschool In A Box
Homeschool In A Box offers hands-on learning unit studies designed with a multi-sensory approach to engage and captivate every child in learning. Each box is designed by a homeschool mom of seven, who knows the importance of NO PREP TIME, and open and go materials. Boxes come with a week-by-week printed unit study and supplies needed to complete weekly activities. Perfect for a complete unit study or a great hands-on supplement to any learning. Subjects include Science, History, Language Arts, Literature, Physical Education, Foreign Language, Home Economics, Cooking, Woodworking, Art, and Geography. Huge inventory of products available to take home at this year's convention!
Homeschool Made Easy
Lea Ann Garfias, homeschool graduate and expert, is the author of the subject's most complete reference work Everything You Need to Know About Homeschooling. She has homeschooled her six children from the beginning and has graduated three of them. She strongly believes that with encouragement and information, homeschool parents can continue in their calling. She enjoys speaking and has appeared on television, radio, podcasts, and live events. Another of her six books, Rocking Ordinary, helps women overcome trauma and trials to reach out to those around them.
Houston Christian University
The mission of Houston Christian University is to provide a learning experience that instills in students a passion for academic, spiritual, and professional excellence as a result of our central confession, "Jesus Christ is Lord."
Houston Gem and Mineral Society
We are a non-profit educational organization that concentrates on earth science, specifically gems, minerals, fossils, lapidary, and faceting. We offer a free earth science program at our annual show to homeschool families.
Houston Maritime Museum
Besides writing and speaking, Lea Ann enjoys performing as a professional violinist, traveling, and eating. She screams a little too loudly at soccer games and drinks coffee a little too often at home. Her youngest children, twins, are adopted yet look exactly like her biological children. Her favorite person in the world is her husband David Garfias, and she's living happily ever after in the Dallas area. Contact her personally at lagarfias.com.
iCode
iCode is an after-school program and curriculum provider focused on utilizing STEM and Coding in a fun, experiential, and project-based style that will not only help students learn the fundamentals of STEM, such as robotics, drone automation, and app development but also teaches how coding and programming relate to each. By doing so in group-oriented settings students also learn key soft skills such as computational thinking, critical thinking, problem-solving, and teamwork.
iD Tech
Enhance your homeschool curriculum with iD Tech, world's #1 STEM educator! Whether your child wants to dive into a collaborative summer experience or try personalized 1-on-1 lessons, they'll learn from experienced instructors who foster self-confidence and fun!
I'm the Chef Too
I'm The Chef Too! is an education company with the goal of creating meaningful learning experiences through the vessel of cooking. We infuse STEAM concepts into our adventure kits, allowing children to question, invent, engineer and create through inquiry-based techniques and open-ended problem solving in the kitchen.
Inquisicook Culinary Science
Inquisicook is an innovative homeschool concept that combines food science and culinary arts into a comprehensive, hands-on course. Learning takes place in both the classroom and the kitchen, and students put their knowledge to use right away cooking real food that the whole family can enjoy. Incorporation of the scientific method and hands-on experiments turn curious students into intuitive cooks--not just recipe followers.

Inquisicook was developed by homeschoolers for homeschoolers. We offer online & independent study courses and in-person workshops.
Institute for Excellence in Writing (IEW)
Our goal is to equip teachers and teaching parents with methods and materials which will aid them in training their students to become confident and competent communicators and thinkers.
Instruments of Praise Homeschool Bands and Orchestras
Instruments of Praise Homeschool Bands and Orchestras offer weekly classes for band and orchestras!
Lamplighter Ministries
At Lamplighter we know that you want character-building content that brings you and your family closer to God. We are committed to inspiring others through the art of storytelling. For more than 30 years, we've been collecting over 200 character-building stories that are built on the foundation of God's word. With Lamplighter books and audio dramas you and your family are sure to enjoy hours of engaging stories that will leave you inspired to overcome challenges and experience a heroic partnership with God. It is our passion to bring you stories that, in hope against hope, you will be fully God will keep His promises and do exceedingly abundantly above all that you could ask or think!
Leadership Institute
Leadership Institute (LI) trains conservative leaders for America.

Its 250,000+ graduates are activists, students, and leaders who know it's not enough to be right -- you must learn how to win.

You can plug in today to LI's political training, career services, college campus network, and many more donor-funded resources for conservatives at LeadershipInstitute.org.
Learn Your Way
Bev Parrish at Learn Your Way serves special learners with the Davis Dyslexia, ADD, and Dyscalculia programs. The Davis programs respect and capitalize on the client's great strengths, rather than focusing endlessly on perceived weakness and the ways the experts say their brain is 'wrong.'
Legacy Homeschool Reflections
Ruth Adams is the author of the book "Legacy – Reflections of a Homeschooled, Homeschooling Mama" and is the host of the Legacy Homeschool Reflections Podcast. She was home educated herself in the 1980's and the 1990's and is now homeschooling her own seven children, seeking to pass on the legacy of faith her parents imparted to her. She has an over forty-year perspective on the homeschooling movement and encourages parents to reach the hearts of their children with the gospel of Jesus Christ. She offers warnings against falling into ditches and exhorts parents to take a Biblically balanced approach in raising their children for the glory of God. Ruth understands the challenges and joys of being a homeschooling mama and loves mentoring other mothers who desire to disciple the hearts of their children for Christ.
Liberty HealthShare
Liberty HealthShare offers health-conscious individuals and families an affordable way to share medical care expenses in a like-minded community. Liberty HealthShare is not insurance. We are a Christian membership-based, non-profit organization where we help facilitate the voluntary sharing between members to pay each other's medical costs.
Liberty University
Located in central Virginia, Liberty University is one of the world's largest Christian Universities, offering over 300 programs of study and 20 D1 sports, K-12 courses, Dual Enrollment, Online, and Residential courses. Here you'll meet students who know they can be and do anything. They celebrate uniqueness, stand up for others, put faith into practice, and apply what they learn to real-world situations, all while preparing to thrive in a career. Come see what it means to train as a Champion for Christ.
LifeFirst
LifeFirst sponsors 5 pro-life student contests and other family activities to help parents engage their children in the compassion issue of our day - the defense of innocent human life lost to abortion and euthanasia. Cash prizes of $1000!
Lone Star College-University Park
Lone Star College-University Park is one of eight colleges in the Lone Star College System, which is the largest institution of higher education in the Houston area and the fastest-growing community college system in the nation. Lone Star College-University Park is committed to meeting all your educational needs and opening doors of opportunity through academic programming, student engagement, and hands-on learning.
LtoJ, LLC
Dr. Lyle Lee Jenkins has found the key to create a perfect homeschool using the best resources to develop intrinsic, sustained motivation and love of learning. A perfect home school is one where the love of learning students bring with them to kindergarten is maintained for the next 12 years, and with results that exceed educational expectations. LtoJ will help you develop the right systems to promote Better Outcomes and Happier Kids!
Manners of the Heart - Non-profit
Manners of the Heart offers a respect-based heart education curriculum for students Pre-K through 2nd grade Using story-based instruction for heart attributes such as respect, kindness, responsibility, self-control, etc. Lessons are designed to unlock the hearts of children and provide them with the foundation needed to grow into the person God meant them to be.
We strive to be people of INTEGRITY.
We treat others with RESPECT.
We CARE for each other and those we serve.
We seek CONTINUOUS IMPROVEMENT in all that we do.
We aim for EXCELLENCE.
Meridian Academy
Meridian Academy has implemented its beliefs by creating a culture where our 9th through 12th grade students have the opportunity to feel a sense of social presence, cognitive presence, and place/teacher presence during their online learning and engagement. Special Education, Advanced Placement, Career & Technical Education, and Electives are also available.

We offer flexible scheduling that reduce stress and anxiety, an opportunity to meet a community of fellow classmates Online, and live assistance from our teachers, as needed. Enroll in our Dual Credit college classes for 9th to 12th grade. We offer multiple courses through our partnership with Lone Star College where you can earn credits that will be applied to an accredited Associate's Degree (2-year program).
MindSprout Montessori
MindSprout is a one-of-a-kind Montessori hybrid school located in Old Town Spring. Our
program is designed to provide students valuable social interaction and the tools to learn and discover, all with the benefits and flexibility of homeschooling. We provide students and their parents the tools to blossom and grow intellectually. Through tailored lesson plans and personal attention, we plant the seeds that sprout into a lifelong passion for learning.
Missouri University of Science and Technology
Missouri S&T offers diverse areas of study, from computing and engineering to arts, sciences, and business. And with our interdisciplinary, cutting-edge, research, you'll be able to put your education to work, no matter your major.
Music Duo
Music Duo is a high-quality music curriculum created by Splendor Productions, designed for elementary-age children ranging from kindergarten to fifth grade.
National Youth Theater
NYT Is A Christian Ministry With The Mission Of Engaging Students In Life Changing Experiences Through The Performing Arts.
NCFCA Christian Speech and Debate
Since 2001, NCFCA Christian Speech & Debate League has empowered students to apply and communicate their worldview with skill and clarity. Whether a student is terrified of public speaking or loves a rousing debate, our training and competition will provide a supportive opportunity for them to apply a biblical worldview to real-life issues.
New Growth Press
NGP is passionate about teaching the good news of the kingdom to the next generation and has created an exclusive line of children and family products for homes, churches, and schools. Each curriculum, family devotional, and book has Jesus as its foundation and focus. Children are drawn to the fun and colorful illustrations and appealing story lines that teach them the Bible and reach young hearts with the lasting truth of the gospel.
Nicole the Math Lady
Nicole the Math Lady offers support for Saxon Math with dynamic video lessons, automated online grading and additional resources.
Northside Sports Association
The Northside Lions organization is a Christ-centered, non-denominational organization. Families of differing doctrinal beliefs join together and unify for the common goal of seeing these young athletes grow in every aspect of life.
Oak Brook College of Law
Online, Christian legal education designed to equip individuals with the knowledge and Biblical worldview to make an impact in the fields of law, business, and ministry.
ObjectiveEd
Our latest system, BuddyBooks, helps struggling readers, where the computer and the student "buddy read" books which keeps the child engaged in the story. Our library allows parents to select books from classic literature along with more modern books with strong family values. At the same time, the AI in BuddyBooks provides a review mode to help the child improve through "Self-Monitoring" and "Reading while Listening". BuddyBooks encourages children to independently read at least 15 minutes a day, and we've seen on average a 24% improvement in fluency along with improvements in prosody.
One Day Academy
One Day Academy provides rigorous, college-prep classes, with faculty who love the Lord and have served Him for decades, on campuses which are safe and relaxed, using well-tested honors style curriculum which has been developed over 25 years, one day per week.
Oral Roberts University
Origami Owl/Think Goodness
Origami Owl a Brand by ThinkGoodness Is On a Mission To Do Good With Each Purchase. Share Your Life Journey With A Living Locket™. Start Yours Today! Create. Gifts For Her. Give Back. Quality. Styles: Living Lockets, Charms,...
Packing the West
Packing the West, a Western Writers of America Classroom Video Series, teaches students about the importance of key events that occurred on the American Frontier and introduces them to books about those events.
Paperpie
EDC began as a publishing company specializing in books for children. EDC is the owner and exclusive publisher of Kane Miller Books; Learning Wrap-Ups, maker of educational manipulatives; and SmartLab Toys, maker of STEAM-based toys and games. EDC is also the exclusive United States MLM distributor of Usborne Publishing Limited children's books.

PaperPie is our home business division that sells direct to the customer. Products are sold nationwide through Independent Brand Partners who share books and educational materials with their customers in various ways, including parties, on social media, at book fairs, in schools and public libraries, and more.
PaperPie formally Usborne Books & More
PaperPie, formally Usborne Books &More, offers Usborne Books,Kane Miller Books, Learning Wrap-ups and SmartLab Toys.
PaperPie is our home business division that sells direct to the customer. Products are sold nationwide through Independent Brand Partners who share books and educational materials with their customers in various ways, including parties, on social media, at book fairs, in schools and public libraries, and more.
Patrick Henry College
Patrick Henry College is a Christian, liberal arts college in northern Virginia. It exists to glorify God by upholding the three principles of high academic rigor, fidelity to the spirit of the American founding and an unwavering Biblical Worldview.
Patriot Academy
Patriot Academy has a bold mission: to equip and educate a generation of citizen leaders to champion the cause of freedom and truth in every sector of society, as we help restore our Constitutional Republic and the Biblical principles that cause a Nation to thrive.
Peggy Miracle Consolver - Author & Speaker
Peggy Miracle Consolver- Author & Speaker. We make the exciting books available to Christian families and churches out of a love for God's Holy Word and a desire to ignite others to read the scriptures for themselves.
Picture the Scripture
Bible Memory System to learn something from every chapter in the Bible, using pictures.
Plano Educators Association of Christian Homeschoolers (PEACH)
We are a volunteer, non-profit, Christian organization committed to serving homeschool families in Plano and surrounding North Texas communities. We participate in clubs, activities, weekly park days, and field trips for our homeschooling PEACH members.
Post Tenebras Lux Books
We aim to improve lives and revitalize old truths through quality Christian stories and studies by distributing Christian fiction and nonfiction books for all ages, including chivalry school studies, veterinary books, and more.
PREP Classes
PREP Classes provides Christ-centered, high academic, on campus Classes in Northwest Houston and Katy areas for the last 28 years. Our excellent teachers are passionately commented to Christ and their students. http://prepclasses.org
Punny Puns
We make learning FUN teaching compound words, meaning of literal, cognitive thinking, the holidays and more!
Reading Books, Coloring Book, Card Games and More!
Reading Elephant LLC
Reading Elephant Phonics Books help build confident readers. They are designed for Kindergartners and First Graders. Our phonics books are decodable. They are methodically written to introduce one phonics sound at a time. That way, kids can gradually go from simple to more complex reading material. Our books are recommended by The Reading League.
Real Reading Company
Real Reading Company sells the highly successful READING AND SPELLING PURE & SIMPLE curriculum. Parents are pleased with how easy it is to confidently teach reading and spelling. Students enjoy learning new words and word patterns. Success is fun!
RightStart Mathematics
RightStart™ Mathematics uses the AL Abacus to provide a visual, auditory, and kinesthetic experience. The program lessons guide the teacher day-by-day and year-by-year, helping children understand, apply, and enjoy mathematics while surpassing state standards. Practice is provided through math card games, minimizing review worksheets. Understanding and problem solving are emphasized throughout.
Rod and Staff Publishers
We have pre k through 10 th grade bible based school curriculum, some teacher helps and a wide variety of story books
Ron Paul Curriculum
Ron Paul Curriculum is dedicated to teaching our next generation real history and excellent writing and thinking skills.
SAGU- Admissions
Southwestern Assemblies of God University is a Bible-based institution for theological and professional studies in the greater Dallas/Fort Worth, Texas Metroplex. SAGU exists to equip students spiritually, academically, professionally, and cross-culturally for their God-given careers and callings.
Sam Houston State University
Located just an hour north of Houston, Sam Houston State, with its beautiful campus charm, has a Texas small-town feel with large-scale opportunities offering top-ranked degree programs.
Samaritan Ministries
Samaritan Ministries is a community of Christians paying one another's medical bills. There are no networks, anywhere. You choose the doctors, treatments, and hospitals that are right for your family when and where you need them. It's Biblical, affordable, and you can join today. Learn more at SamaritanMinistries.org/THSC.
Schreiner Institute
Schreiner Institute's mission is to inspire and to equip cadet candidates for any of the United States' Military Service Academies where they will become commissioned officers, leaders with integrity and character, committed to the core values of duty, honor and country. Cadets are prepared for a career of professional excellence and service to the United States of America.
Sharing Great Health, Inc
Producers of nutritional curriculum for ages 5-12. May be used as 1/2 or 1 credit
SillyGeese Publishing, llc
SillyGeese Publishing llc strives to bring whimsical and purposeful books to families with children ages 3-12. With beautifully illustrated picture books, to hands on workbooks and activities we strive to provide books that will light up a child's love of reading.
Simply Charlotte Mason
Enjoyable curriculum, living books, and enriching fine arts for a Charlotte Mason-style education.
Singapore Math Live
Singapore Math Live maximizes your child's math potential! Math education is much more than just finding an answer, help your child develop critical thinking skills and show them the beauty of mathematics!

Smart Relief
Sells portable massagers and percussion devices
Sonlight Curriculum
Easy-to-use homeschool program with complete lesson plans, schedules, and materials from preschool through high school. Sonlight is the complete literature-based, Christian homeschool curriculum that includes everything you need to teach your children: homeschool history, math, science, and more!
Spectrum Linx
"SpectrumLinx makes autism answers easy. Families and individuals will find a platform full of bite-size trainings, suggested learning paths, infographics and expert coaches
to help you manage life with autism or neurodiversity."
Summit Ministries
Summit Ministries desires to see generations of Christians transform a broken world. We equip and support people to embrace God's truth and champion a biblical worldview. See Resources. Get More Info. View Programs.
Spud 'N Rich
Our core values are Faith, Family and Fun! Helping children better develop their God-given abilities by encouraging learning and imagination through physically active play.

Spud 'N Rich creates Phys-Active Toys that bless kids with more fun than digital amusements; to get them moving and playing in the real world. Unleashing phenomenal properties of physics, we make toys that foster a sense of awe and wonder we call "Funomenal Fun."

To make the fun sustainable, we strive to use the best materials and design to deliver heirloom quality and tons of fun for years to come.
Starla's Creative Teaching Tips
We provide fun, affordable, hands-on lessons learning body systems by building the organs out of clay (that never dries out!) These lessons are step-by-step instructions that make complicated content easy to learn and retain.
Steadfast Press
Steadfast Press is committed to training high schoolers to think biblically, reason soundly, and write clearly, evaluating history and culture through a biblical worldview. Steadfast curriculum provides 17.5 high school credits over 4 years.
Stoa Christian Homeschool Speech & Debate
Stoa Christian Homeschool Speech & Debate is a national league with a mission to train homeschool students to speak boldly and change the world for Christ. Our vision is to develop world class communicators with a biblical worldview who pursue competitive excellenceand build a world class community. This is accomplished through national tournaments, competitions and training via local speech & debate clubs .
String Theory Logic & Games, LLC.
String Theory Logic & Games, LLC is a software development company that focuses on educational math and other STEM focused games for K-5 educational acumen achievement
Summit Ministries
Dr. Jeff Myers is the president of Summit Ministries. As an educator and entrepreneur, Dr. Myers has become one of America's most respected authorities on youth leadership development. Focus on the Family founder James Dobson referred to him as "a very gifted and inspirational leader."
TalkBox.Mom
Evangelist Josh McDowell called him "a man who is 100% sold out to preparing the next generation to reflect the character of Christ in the culture."
Teach Kids Careers
Through his speaking engagements and media appearances, Dr. Myers has become a fresh voice offering humor and insight from a Christian worldview. He is the author of 14 books, including Understanding the Faith, Understanding the Times, and Understanding the Culture. His textbooks are studied by tens of thousands of students.
Teach Me Health and Homeopathy/Paola Brown LLC
Dr. Myers holds a Doctor of Philosophy degree from the University of Denver. He continues to engage college students and adult learners by serving as a trustee of Colorado Christian University and through a Signature Leadership Course offered by the Lumerit Corporation, which serves the training needs of many Fortune 100 companies. Jeff and his wife Stephanie and their family live in Colorado.
Teaching Textbooks
Teaching Textbooks: Math curriculum designed specifically for homeschoolers, Math 3 through Pre-Calculus.
Texans For Medical Freedom
Texans for Medical Freedom is a member driven organization dedicated to educating and advocating for all Texans' right to informed consent and vaccine freedom of choice. We represent our diverse supporters, who share our values with dignity and respect. We empower individuals to become politically involved, ensuring that our freedom of vaccine choice remains a right that is free of consequence or interference from government or bureaucracy.
Texans for Vaccine Choice
Texans for Vaccine Choice (TFVC) is dedicated to protecting and advancing informed consent, medical privacy, and vaccine choice. TFVC accomplishes this mission by first providing resources and educational tools so you know your rights and how to defend them. Then we connect you to a community across the state, like-minded neighbors and liberty-minded healthcare professionals. Finally, we stand with you in the battle against medical tyranny, taking the fight to our Texas Legislature and other political arenas.

TFVC represents our supporters, and all others who share our ideals, with dignity, empower people to become politically involved, educate the public, and ensure that vaccine choice remains a right that is free of consequence or interference from government or bureaucracy.
Texas A&M Agrilife Extension Veterinary Science Certificate Program
The VSCP is a nationally recognized program designed for students interested in becoming a veterinary assistant. The program is coordinated through Texas A&M AgriLife Extension Service, open to participating high schools, 4-H clubs, homeschools, and to private individuals, the VSCP has participants in all 50 states. If you are an educator looking for veterinary science curriculum, support, events or professional development we have something for you. Students are eligible to sit for a veterinary assistant certificate after successful completion of our program. Professional development and curriculum support for teacher in veterinary medicine and animal science is available at our annual summer trainings. Texas A&M VSCP is all things CATE, Veterinary Medicine & Animal Science all wrapped into one.
Texas A&M University - Engineering Academies
The Texas A&M Engineering Academy program is the first engineering transition program of its kind in the United States. Unlike traditional transfer programs, students admitted into an Academy are admitted to Texas A&M Engineering and begin earning Texas A&M transcribed credit from semester one. A large percentage of these students begin their Aggie engineering degree close to home, maximize the benefits of the community college including lower tuition and fees, take advantage of smaller class sizes and make progress towards their engineering bachelor's degree.
Texas Baptist College
Texas Baptist College exists to glorify God by providing trustworthy Christian higher education for more faithful service to Christ.
Texas Baptist College students think biblically, reason truthfully, and share God's Word effectively. At TBC, community is key to the way students are formed to be difference-makers in their world, with spiritual formation as the foundation. Prospective students and their parents can have complete confidence in the faculty who will be teaching them in the classroom and beyond. Our faculty are not only experts in their academic fields, but they also love, serve, and will lead their students to love the local church. Texas Baptist College is distinctly Christ-centered, scripture-driven, and student-focused.
Texas Right to Life
Texas Right to Life is dedicated to glorifying the Lord in education, legislation, and advocacy. We stand at a critical moment where the war for the soul of America could go either way, with our enemies increasingly attacking and Pro-Lifers leaving the field.
The abortion industry is the most powerful weapon of Satan, by which he literally kills innocents and destroys families. Alongside our calling to evangelize the world, Christians must work to take this destructive tool out of the enemy's hand and promote God's gift of Life.
Texas Scorecard
Through news reporting and investigative journalism, Texas Scorecard exists to provide citizens the knowledge they need to effectively dominate government and culture
Texas Wesleyan University
Texas Wesleyan aspires to be a values- and student-centered university where motivated students prepare for graduate school and leadership in professional careers.
This vision is premised upon the understanding that professional employers seek individuals who have attained the essential skills of critical thinking, analytical reasoning and creative problem solving.
Texas Wesleyan believes that the best way for undergraduate students to learn these skills is in a liberal arts setting through intentionally small classes led by gifted faculty who are committed to student success.
Texas Youth Hunting Program
TYHP provides mentored, educational hunting opportunities for youths ages 9-17. Hunts are highly structured and very safe, and youth must be accompanied by an adult. Join us for great fun outdoors!
The Art of Music Studio
The Etiquette Factory
The Etiquette Factory gives families amazing resources that help teach kindness considerations & essential life skills so that your children can build a life of integrity and honor. The GREAT news is that these effective lessons will soon become your children's favorite part of their school day.

Come and See! You will be so excited!
The Homeschool Store
Visit us to see a small sample of our Houston-area store, the largest selection of new and used homeschool materials in Texas. Our staff of homeschool moms, with their vast experience, can help you choose curriculum to best fit your family's needs and interests.
The University of Texas at Austin High School
THEO Christian Solution
Welcome to THEO Christian Solution, Inc.

Home Education works! THEO annually serves approximately 600+ home educating families in North Texas to support their family goals of strong academics in a Christian environment where parents are in charge. We offer families outsourced classes for their students as well as educational seminars to help train the parents in the rigors of home education. Get to know us at our booth and find information regarding our robust schedule of core academic subjects as well as elective classes. THEO also offers two elementary programs, Academic Adventures and Friday Adventures. theo.solutions/
Thinkwell
Thinkwell's online video courses feature engaging lessons from award-winning teachers, along with automatically graded exercises and more. It's like having the world's best teacher right by your side.
This One's for the Gals
This One's for the Gals is a 501(c)(3) nonprofit organization that helps female students in grades k-12 with career exploration and workforce development in the construction, energy and manufacturing industries.
Tomball Christian Warriors
Tomball Christian Warriors is a non-profit homeschool family resource support program offering JH & High School Football & Cheer, and Flag Football.
Tooth Collector Fairies - Ditto Enterprises, LLC
The Tooth Collector Fairies is the title of an International Award winning children's chapter book series about the tooth fairy for children ages 5-10 written by Denise Ditto that teaches life lessons and encourages children to brush their teeth.
Tower Garden
Trail Life USA
Trail Life USA is a Church-Based, Christ-Centered, Boy-Focused mentoring and discipleship journey. Boys are challenged to grow in character, understand their purpose, serve their community, and develop practical leadership skills to carry out the mission for which they were created.
United States Army
The U.S. Army is made up of the most dedicated, most respected soldiers in the world. These soldiers protect America's freedoms while serving at home and abroad. As one of the largest and most important government organizations in the United States, its function is to defend the American people from aggressors with a force of qualified, skilled, and dedicated soldiers. As a soldier, you will have the choice of whether to serve on active duty or as a member of the Army Reserve. You will also have the choice of enlisting, or if qualified, commissioning into service as an officer.
University of Arkansas - Fort Smith
The University of Arkansas - Fort Smith has never really fit the mold of a typical university — and we've never really wanted to. Our passion isn't to replicate how higher education has always been done, but to redefine it for the good of our students, and we mean all of them.
University of Texas at Arlington
The University of Texas at Arlington is a world-class, Texas Tier One institution. Our established excellence and commitment to interdisciplinary research, faculty, and education provide transformative opportunities to succeed in a globally competitive world. Here, it's students first, excellence always. Since UTA is classified as a Carnegie R-1 University, our students have access to professional educators who are leaders in their fields throughout 180+ degree programs within 9 different colleges. The state-of-the-art facilities within our 420-acre campus in heart of the DFW Metroplex means countless career-building opportunities are right at your fingertips.
Visible Music College
Visible Music College is a private, Christian music college with a physical campus in Memphis, TN as well as Remote and Online options for higher education. Visible is focused on training the next generation of leaders for both music ministry in the church and the industry. Through immediate hands-on education, we get right to work on preparing you for your calling! Programs offered are Modern Music, Music Business, Music Production, and Creative Leadership.
Walsh University
Walsh University is a Catholic university offering nearly 100 academic majors and minors, DII athletics, and small class sizes with hands-on experiential learning opportunities, internships, and global learning programs.
West Texas A&M University
WT is located in Canyon, Texas, on a 342-acre residential campus. Established in 1910, the University has been part of The Texas A&M University System since 1990. WT, a Hispanic Serving Institution since 2016, boasts an enrollment of about 10,000 and offers 59 undergraduate degree programs and more than 40 graduate degrees, including two doctoral degrees. The University is also home to the Panhandle-Plains Historical Museum, the largest history museum in the state and the home of one of the Southwest's finest art collections. The Buffaloes are a member of the NCAA Division II Lone Star Conference and offer 14 men's and women's athletics programs.
Why-Games?
Why-Games has been offering family fun and educational games to homeschoolers since 2012. We offer games for all ages. Our games are carefully chosen for their educational, fun or strategic values! Come shop our booth to add the fun to your homeschool day!!
Workforce Solutions Texoma
The vocational rehabilitation program seeks to aid students and families facing barriers to education and work. All our programs and services are free. Please come to see how we can partner with you and help you overcome any barriers to post-secondary education and training geared towards you and your bright future.

Career Services:
Job/Career Exploration (Counseling)
Work-based learning opportunities
Counseling for post-secondary opportunities (comprehensive transition or post-secondary education)
Workplace readiness/social skills
Instruction Self-Advocacy
Worldview Classes
Worldview Classes has been teaching a high school liberal arts curriculum in the North Texas area for the past twenty-five years. We use Cornerstone Curriculum's Worldviews of the Western World as our core curriculum. All of our subjects are fully integrated with a biblical worldview. Speech and Debate are integrated into every year of the curriculum as well. All of our Classes have been certified as dual credit. This will enable students to earn an associate's degree with their high school graduation.
yes. every kid. foundation.
yes. every kid. foundation. is devoted to unlocking the extraordinary potential of every kid. We are committed to the discovery and development of an education system that serves kids' unique needs. We promote the open dialogue, education efforts and agreed-upon needs of parents and teachers working together to build a more open and diverse educational system.
ZookBooks/Aaron M. Zook, Jr.
ZookBooks provides exciting, clean, and challenging Christian books, fiction, and non-fiction, including the Thunder and Lightning Mystery/Adventure fiction series for middle-schoolers and YA, Christian women's growth books, and Christian anthologies.
Zuniga School of Music LLC
We help students of all ages 5+ learn how to play and master piano, guitar, bass, and more! Our specialty is stringed instruments and we use a student-first approach to teaching where we build our lesson plans and curriculum based off of each student's musical goals. We have classical methods ready for students who prefer a classical approach and a library of modern music for those that prefer a modern approach!